After a 1-year delay due to the COVID-19 pandemic, we are pleased to announce that the 26th ICVS Symposium will be held in Heraklion, Greece, from July 1st to 5th, 2022.   Click here to visit the conference website.
Heraklion is the 4th largest city in Greece and the largest city on the island of Crete, with approximately a population of 200,000. Crete itself is the largest Greek island and the 5th largest island in the Mediterranean Sea, both in population and area. 
Heraklion and Crete have a rich history spanning more than nine millennia. Crete was first inhabited in 7000 BC, and the Minoan civilization appeared in 2200 BC. Knossos is where the Minoans settled, and it is located just 6 Km south of Heraklion. It served as its main port and was destroyed by a volcanic tsunami from Santorini. The Knossos palace is the second most visited archeological site in Greece, behind only the Acropolis and Parthenon in Athens. The Disk of Phaistos, a collection of stamped symbols that still await to be deciphered, was found in Phaistos, the second palace of King Minos, located 50 Km southwest of Heraklion. The Disk can be viewed in the Archeological Museum of Heraklion that carries prehistoric, neolithic, and later artifacts.
The present city of Heraklion was founded in 824 during the Arab period that was followed by the Byzantine occupation. The Venetians bought the city in 1204 and built an enormous fortification to protect it from the pirates. The fortification is the best preserved around the Mediterranean Sea, and can be seen and enjoyed today, as it is largely intact. The fortress "Roca a Mare" used to protect the harbor and today the Cretans call it "Koule." The Ottomans besieged the city for 21 years, from 1648 to 1669, and occupied it until 1898, when the Great Powers created the Cretan State, and Heraklion became part of the British zone. With the rest of Crete, Heraklion was annexed in Greece in 1913 and became the capital of Crete in 1971, replacing Chania, the second-largest city on the island. Heraklion has been the hometown of painter El Greco (or Domenikos Theotokopoulos), novelist Nikos Kazantzakis who wrote Zorba the Greek, and poet Odysseas Elytis, a Nobel prize winner. 
Today, Heraklion is a modern city with its long history on display, wherever one looks. Apart from several museums, Heraklion hosts two universities (the University of Crete and the Mediterranean University) and the Foundation for Research and Technology - Hellas, which all attract a young population making Heraklion a lively and buzzing city. 




Call for Papers
Abstracts for either a paper or poster presentation on any aspect of colour vision are invited. Topics of interest include, but are not restricted, to any of the following: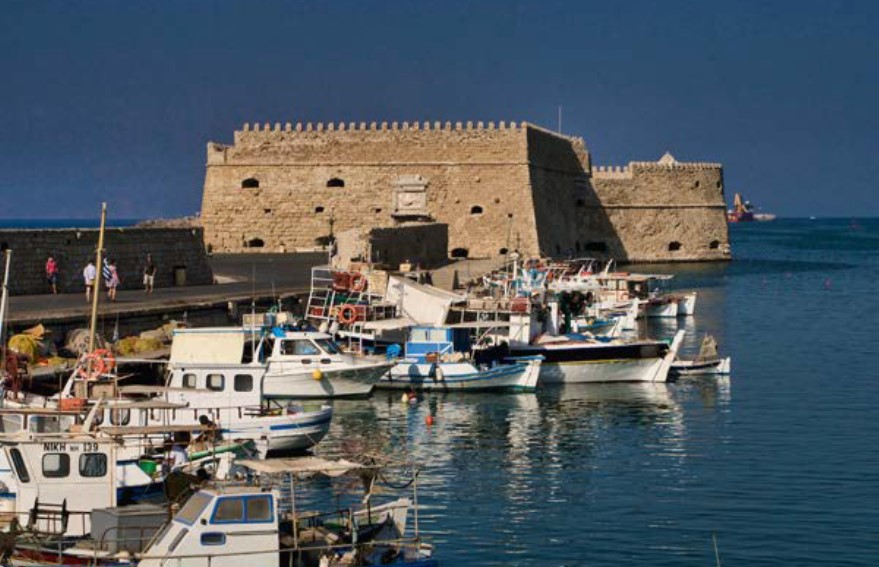 Acquired deficiencies of colour vision
Chromatic mechanisms
Colour cognition
Colour in occupational environments
Colour induction and constancy
Colour in mesopic conditions
Colour naming
Colour vision assessment
Colour vision in clinical practice
Comparative colour vision
Congenital colour vision deficiencies
Cortical colour processing
Digital reproduction of colour information
Ecology of colour vision
Effects of aging on colour vision
Electrophysiology of colour processing
Functional imaging and colour vision
Genetics of colour vision
Hypoxia and colour vision
Object-surface properties, material perception
Peripheral colour vision
Physiology of colour vision
Psychophysical aspects of colour vision
Unique hues
Variability in colour vision
Travelling to Heraklion
Heraklion has an international airport (Nikos Kazantzakis, HER) and a port. More than 60 airlines connect Heraklion with major European cities. There are also several domestic flights to and from Athens and other Greek cities and islands. Therefore, one could fly to Heraklion directly or fly to Athens (AIA) and take a short connecting flight to Heraklion. The airport is located just 3 Km east of the city center.
Several ferries connect Heraklion with Athens daily (at the port of Pireus) or other islands, mainly in the Cyclades, like Santorini, Paros, and Mykonos. One could fly to Athens and then take a ferry to Heraklion. The port is within walking distance from the city center.
Conference Website
The address for the conference website is
https://www.icvs2022.org
.  It will be regularly updated with details about important dates, abstract submission, registration, etc. 
Social program
The social program will include:
Welcome reception on Friday, July 1st, 2022.
Half-day excursion on Sunday, July 3rd, 2022.
Banquet on Monday, July 4th, 2022.
A social program for accompanying persons will also be organized for the days and times when the scientific program runs.
Important Dates (subject to change)

January 10th, 2022: Abstract Submission and Early Registration Opens
March 15th, 2022: Abstract Submission Deadline (There will be no deadline extension.)
April 15th, 2022: Abstract Acceptance and Student Award Notification 
May 1st, 2022: Early Registration Ends
June 1st, 2022: Late Registration Ends
June 2nd - 20th, 2022: Conference Only Registration (i.e., the registration will include access to the conference, coffee breaks, and two lunches, but not the welcome reception, excursion, and banquet) 
July 1st - 5th, 2022: Symposium!
Organizing Committee
Maria Makridaki, Ph.D.,
Foundation for Research and Technology Hellas, GR 
Dimitris Mylonas, Ph.D.,
University College London & Goldsmiths, University of London, UK
Thanasis Panorgias, Ph.D.,
New England College of Optometry, USA
Neil Parry, Ph.D.,
Manchester Royal Eye Hospital, University of Manchester, UK
Sotiris Plainis, Ph.D.,
University of Crete, GR
John S. Werner, Ph.D.,
University of California Davis, USA 
Scientific Committee 
Claudia Feitosa-Santana, Ph.D., Neuroscience for Human Development, Brazil
Jasna Martinovic, Ph.D.,
University of Aberdeen, UK
Maureen Neitz, Ph.D.,
University of Washington, USA
Thanasis Panorgias, Ph.D.,
New England College of Optometry, USA
Miltiadis Tsilibaris, MD,
University of Crete, Greece 
Michael Webster, Ph.D.,
University of Nevada Reno, US